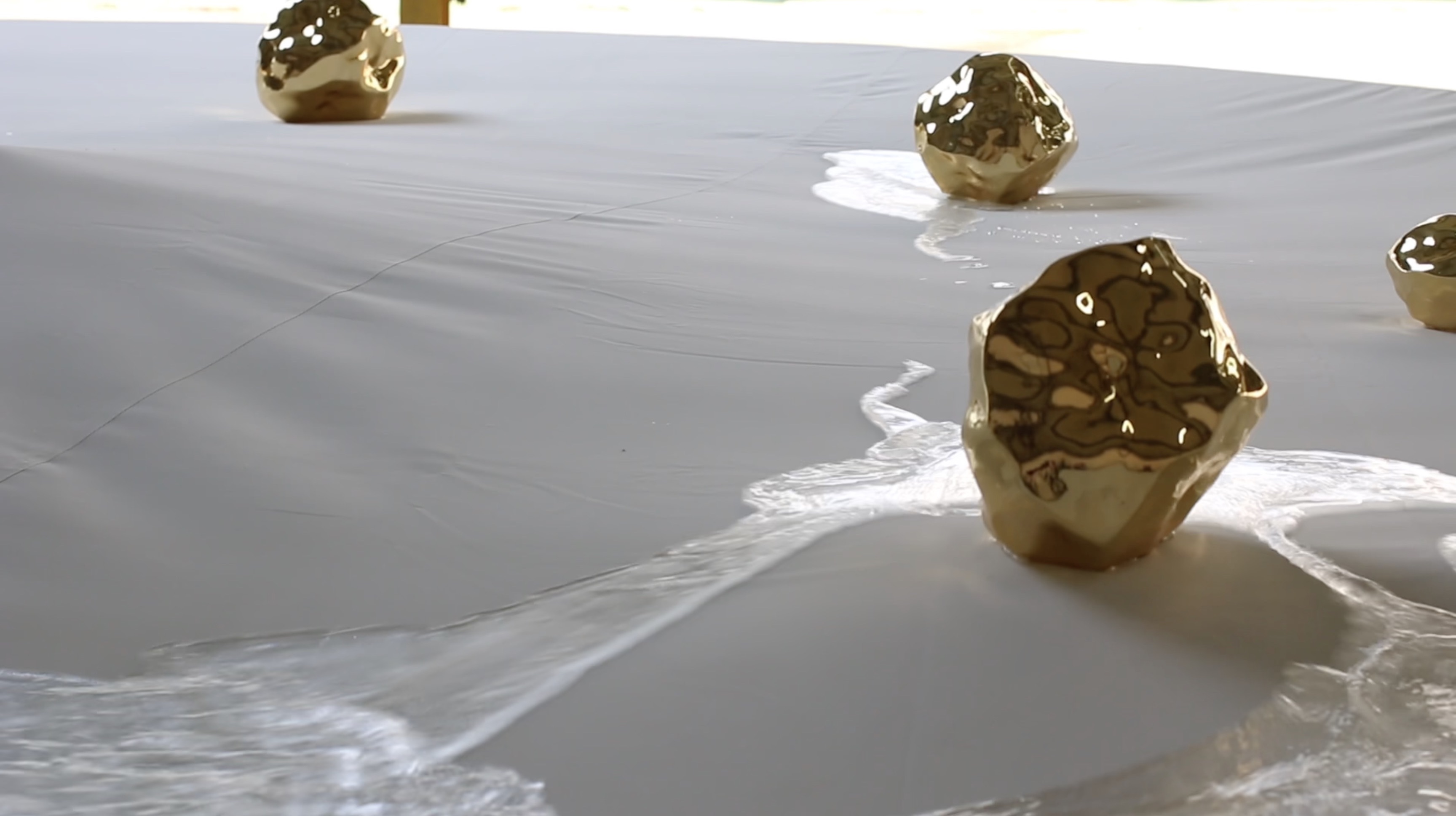 18 닥드정 〈중력에의 의지 v20 Type B_ v3 from FIG on Vimeo.
〈중력에의 의지 v2.0 Type B〉는 하얀 막 위에 금색의 덩어리, 투명한 유체가 서로 긴밀하게 연결되는 설치 작업이다. 유체는 표면 위를 유동하거나 덩어리의 표면에 붙어 새로운 배열을 만든다. 금색의 덩어리는 양감을 가진 물체로 무게감을 증폭시키고, 유체는 덩어리를 중심으로 부유하며 힘의 이동성을 드러낸다. 금색의 덩어리는 각자의 위치에서 상하로 움직이며 액체를 스치고 서로를 나누어 갖는다. 표면 아래의 움직임은 표면 위의 유체의 이동성을 불러일으켜 힘을 분배하고 공유한다. 작가는 중심의 이동을 통해 힘의 균형을 유지하며 공간을 경험하는 감각을 증폭시킨다.
외부의 환경에 의해 변화하는 재료의 양상은 우리 주변의 풍경과 일상의 모습을 담아낸다. 이번 작업에서 작가는 재료들의 관계 속에서 물체의 고유성과 성질을 탐구하고, 유체의 결합을 통해 사회 속에서 더불어 살아가는 공생의 경험을 이끌어낸다.


〈The Will to Gravity v2.0 Type B〉 is an installation project, closely connecting golden mass and clear fluid on a white curtain. The fluid either flows on the surface or creates a new arrangement by sticking to the mass. The golden mass, with a sense of volume, amplifies the sense of weight, and the fluid, movement centering on the mass, expresses the mobility of power. The golden masses move up and down from their position, grazing and splitting liquids. The movement under the surface causes the mobility of fluid on the surface so that the power is distributed and shared. Jung Dakd amplifies sensory experience of the space by moving the center while maintaining the balance of power. Aspects of ingredients changed by the external environment capture the landscape and daily lives around us. Through this project, he explores the uniqueness and properties of objects from the relationships between ingredients and reveals the cooperative coexistence in society by combining fluids.